Falconry-Days Hawking in Warwickshire
Falconry-Days is a Hawking experience in the heart of Warwickshire, a county steeped in history and tradition , the perfect location to experience and learn about the ancient art of Hawking.
Working with Birds of Prey is a unique experience, a chance to see natural survival skills up close. We are fortunate to be able to offer you an experience of a lifetime on one of our "Hawking Days," or for those who want a deeper understanding, we offer courses and assessments in Falconry.
---
Falconry Courses in Warwickshire
For those beginning in falconry, or for those with a passing interest, we can offer several options for you to find out more.
Our "Hawking Days" are a unique insight into working with birds of prey, handling them throughout the day as you work together in some of Warwickshire's fine countryside.
For a more in-depth insight into keeping birds of prey our courses may be of more interest. Courses of one day, or one week allow us to look more at the handling, husbandry and care of birds of prey and are a good precursor to the falconry assessment.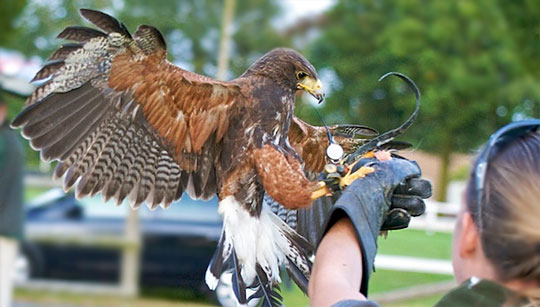 Hawking Days in Warwickshire
For a real hands-on falconry experience from the start, consider one of our Hawking Days.
A small party of guests are taken out with our trained Harris Hawks to explore and work in 1000 acres of Warwickshire countryside.
Click here for more details.
---
Warwickshire Falconry Shows, Displays and Educational visits
For your club, school, or group, we can offer displays and talks with our birds, our ferrets and their handlers giving an insight into their work.
For shows, we can provide a static display, or a flying display with a number of birds to suit your requirements.
Ferret displays and ferret racing are also available.

Please Contact us
for further information.